Clustered Strong 3.0 geen Tea Tofu Cat Litter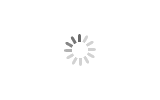 Clustered Strong 3.0 geen Tea Tofu Cat Litter
oem

China

15 Days

30 tons per day
3.0 Green Tea Tofu Cat Litter is made of food-grade raw materials through advanced technology. It has no secondary pollution and can be directly flushed into the toilet. With super deodorization, faster water absorption and agglomeration of non-toxic environmental protection cat litter.

Popular package Bags: 6L-2.5kg , 7L-2.8kg. Also can do any size as to your special request. Can also do Printed Box package and Barrel Package with your own Brand.
 
MOQ: 1Tons (357/400Bags)
Package: 6/8/10 Bags/Carton
Clustered Strong 3.0geen Tea Tofu Cat Litter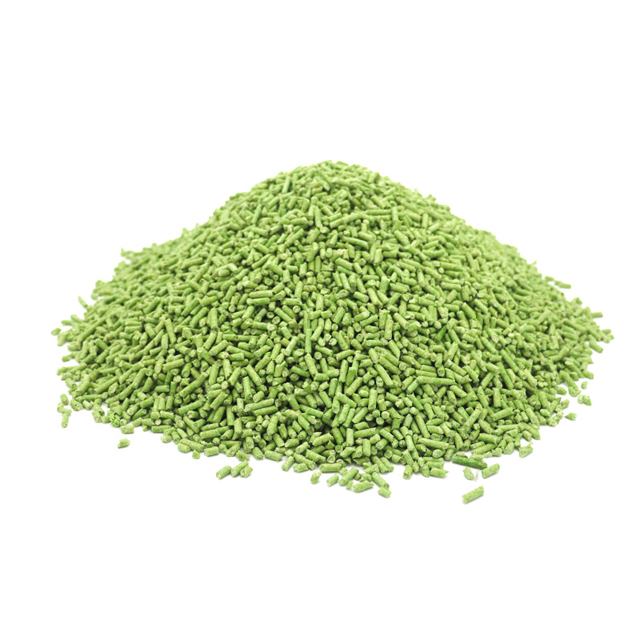 Color:green
Ingredient:soybean fiber、corn starch、guar gum
Diameter:0.3-0.32cm
Proportion:530-550g/L
Absorption:400%
Feacture:food grade material
Dust:★★★★★
Clumping:★★★★
Deodorization:★★★
Cleaning:★★★★★
Use time:★★★
Carton Size:390*530*250
Package:6L/7L/18L/24L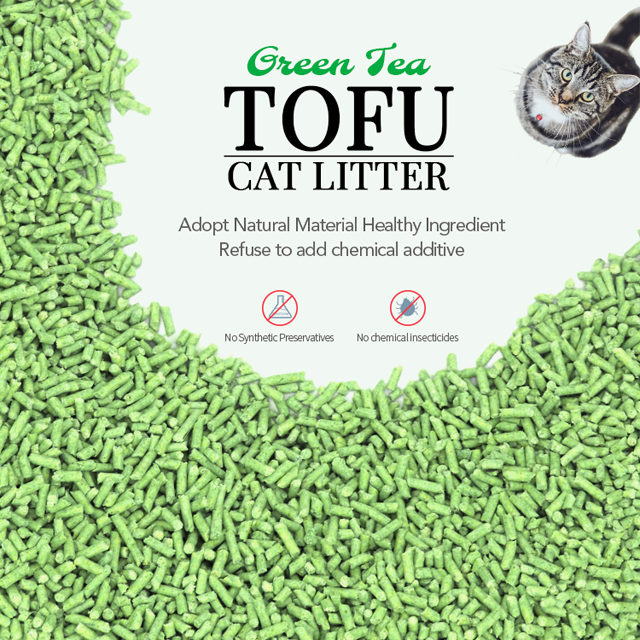 Tofu cat litter is made of food-grade raw materials through advanced technology. It has no secondary pollution and can be directly flushed into the toilet. With super deodorization, faster water absorption and agglomeration of non-toxic environmental protection cat litter.
Why choose Eco Clean Tofu Cat Litter?
1) Fast Absorption Rates stop the Litter from sticking to the litter tray, making cleanups easier.
2) Hard Clumping allows complete removal after use, keeping the litter tray clean.
3) Odor Control is simpler with more interspaces to stop bacteria, keeping the air fresh.
4) Made from beancurd and green tea ensures that it is safe for your furfriends.
5) Environmentally friendly Tofu Cat Litter can be flushed down the toilet since it is bio-degradable.
6) Passed European Safety Test for Toxic Substances, Totally safe for Cats & Humans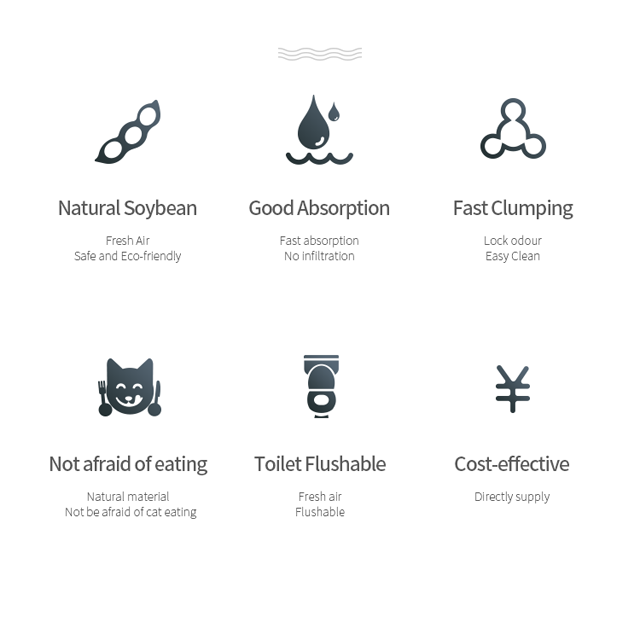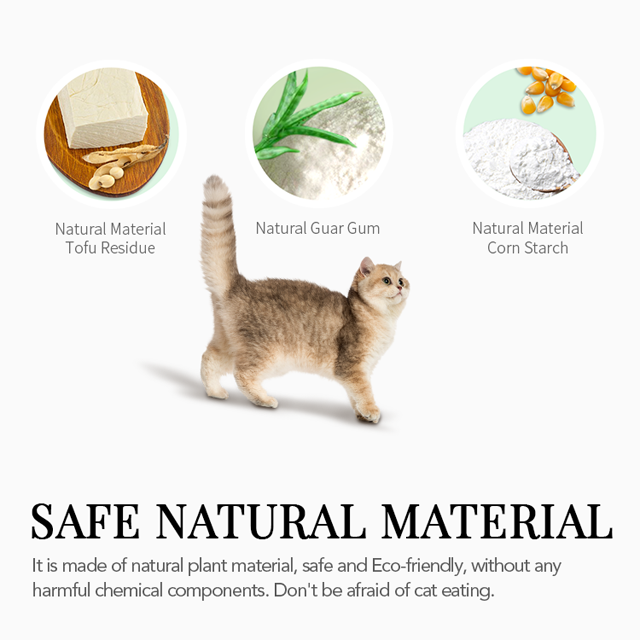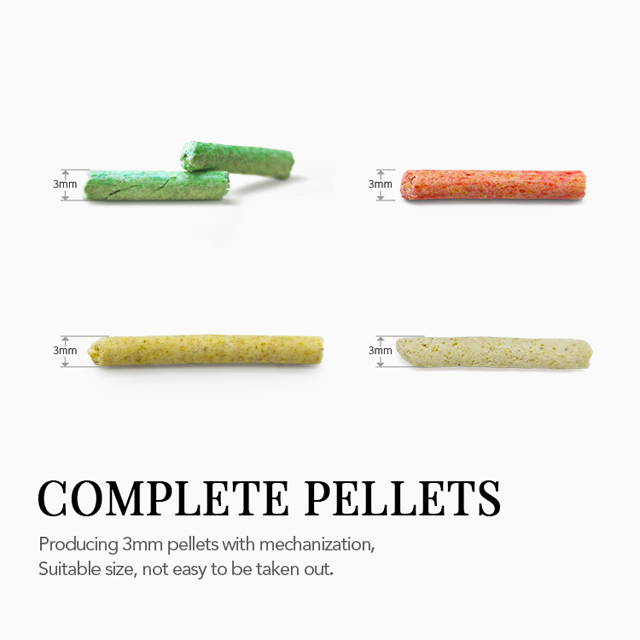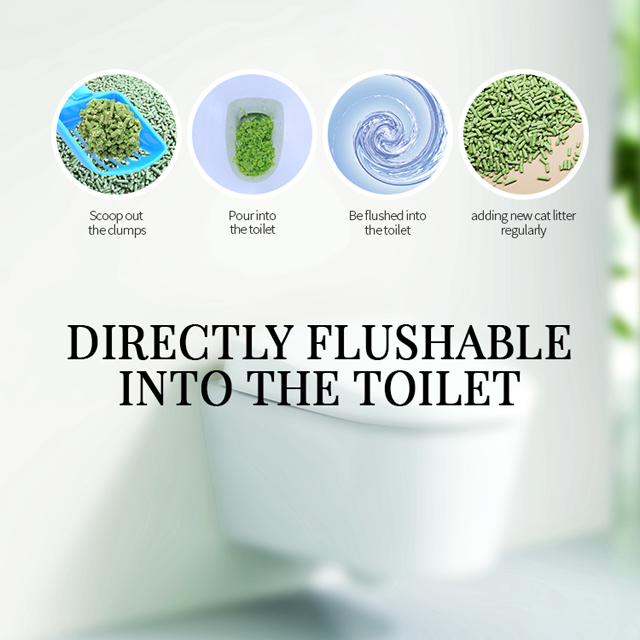 we have introduced advanced production equipment and production technology of high-end litter in Japan and Germany, and to improve the quality of inspection measures in all aspects of production.At present, we have established cooperation with professional dealers in more than 50 countries and regions. Our products are sold in all parts of Asia, Europe and South America.
Haosen company has independent research and development team, according to the market demand of different regions, with different product collocation scheme. We support our own brand sales, but also OEM, processing and other modes of cooperation.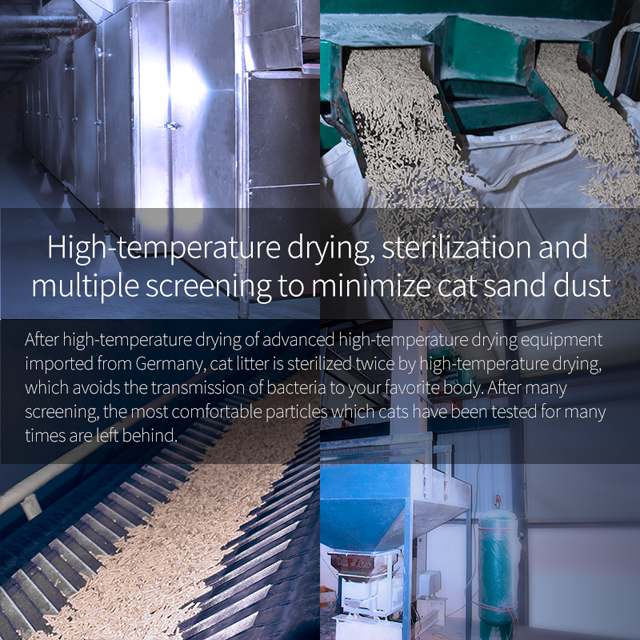 ATTENTION:
We provide various packaging and branding options in order to satisfy needs of all our customers. We pack directly at the factory and get the final product ready for container loading. OEM, ODM and bulk packing options are available with such packages as plastic bags, carton boxes with handles, strong woven bags and ton bulk bags. Palletization with film wrapping also can be performed according to your requirements.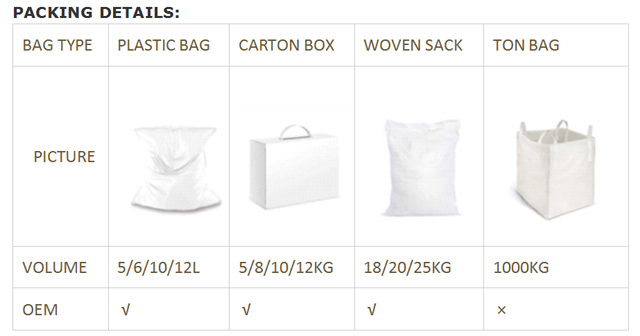 All goods can be palletized according to your requirements. Each pallet is wrapped with film for more stability during loading and shipping – this reduce damage rate.
Outer package can be woven sack or carton box, for most accurate pallet loading data please contact our staff.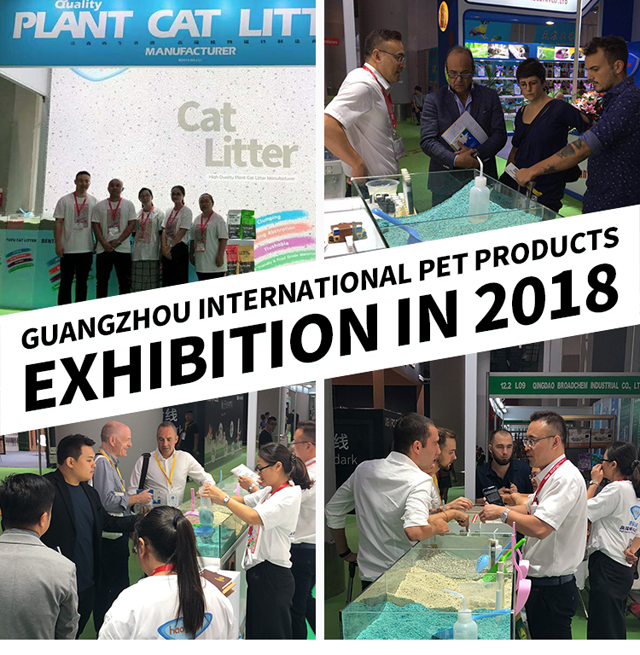 FAQ:
Q1:What is your Popular Package Size?
Tofu Cat Litter,
Type: Normal 3.0 diameter Striped; 2.0 diameter Striped; Cracked Cat Litter (With Charcoal)
Popular package: 6L 2.5kg , 7L 2.8kg. Also can do any size as to your special request.
MOQ: 1Tons (357-400Bags)
Package: 6/8/10 Bags/Carton
Q2: What is your MOQ?
MOQ: 1Tons, Sizes can be Mixed one container.
Q3: Do you offer free samples?
Yes, free samples are ok, but if Shipping express cost is too high, we hope we can share it. Or customer pay it, and we will return the shipping charge to you as long as you make the order.
Q4: How long the order will be finished?
If you need make your own brand bags, Bags need 2 weeks finished, and for Cat Litter 3 days is ok
Q5: Can I do OEM?
Yes, we have our own Package Bags factory, have professional designer, can design the package as to your special request. Can Print your own Brand on the package.